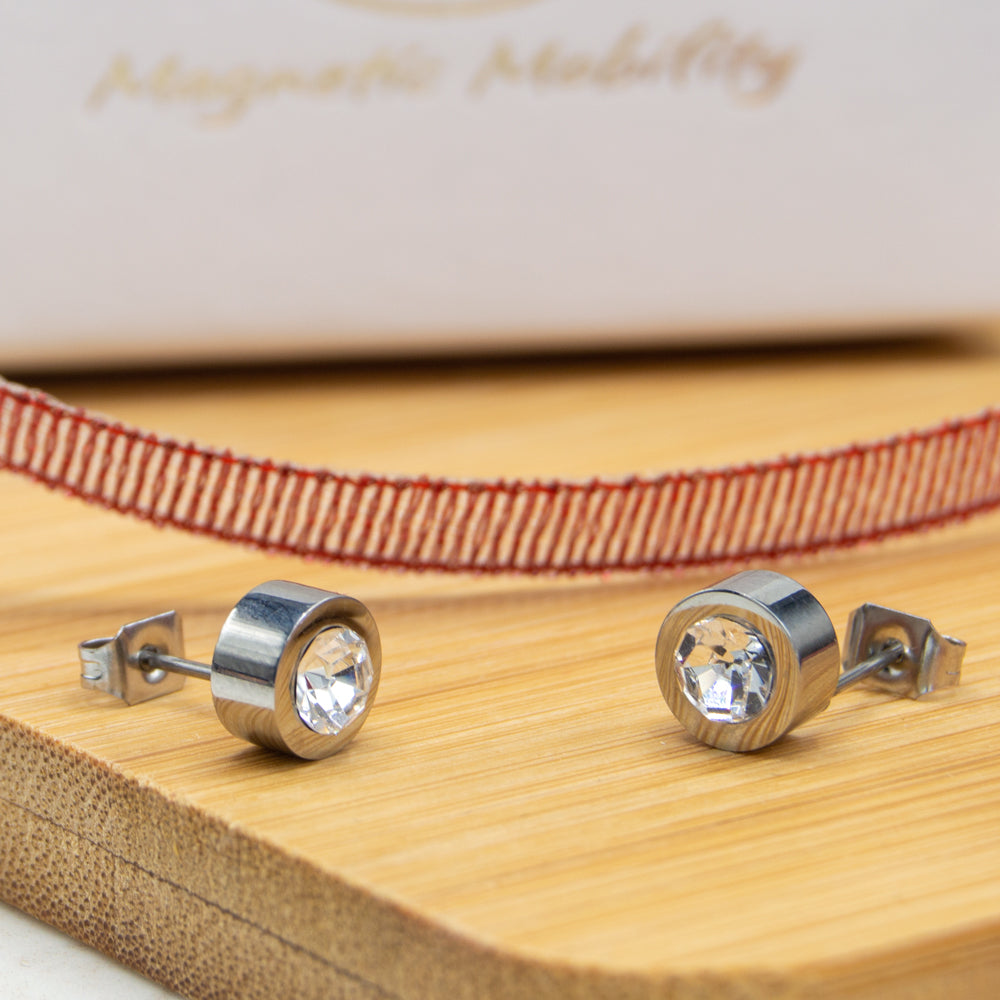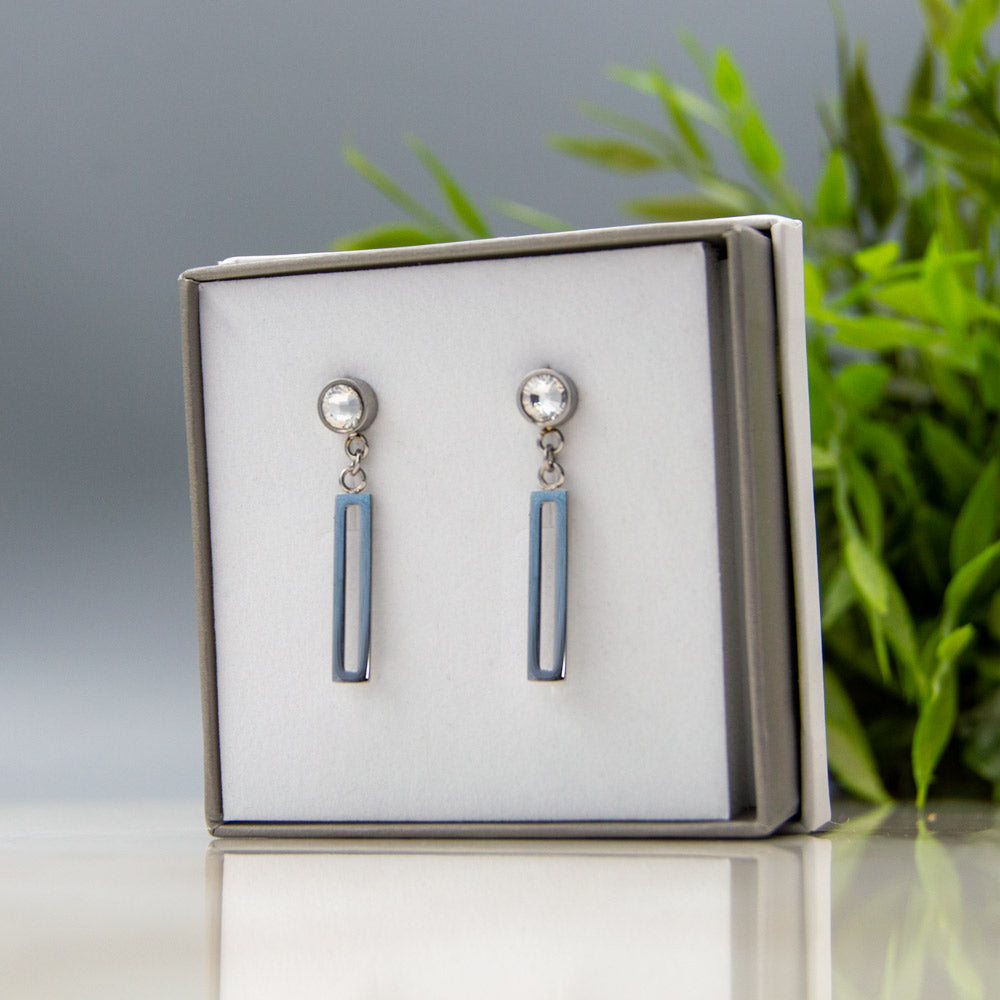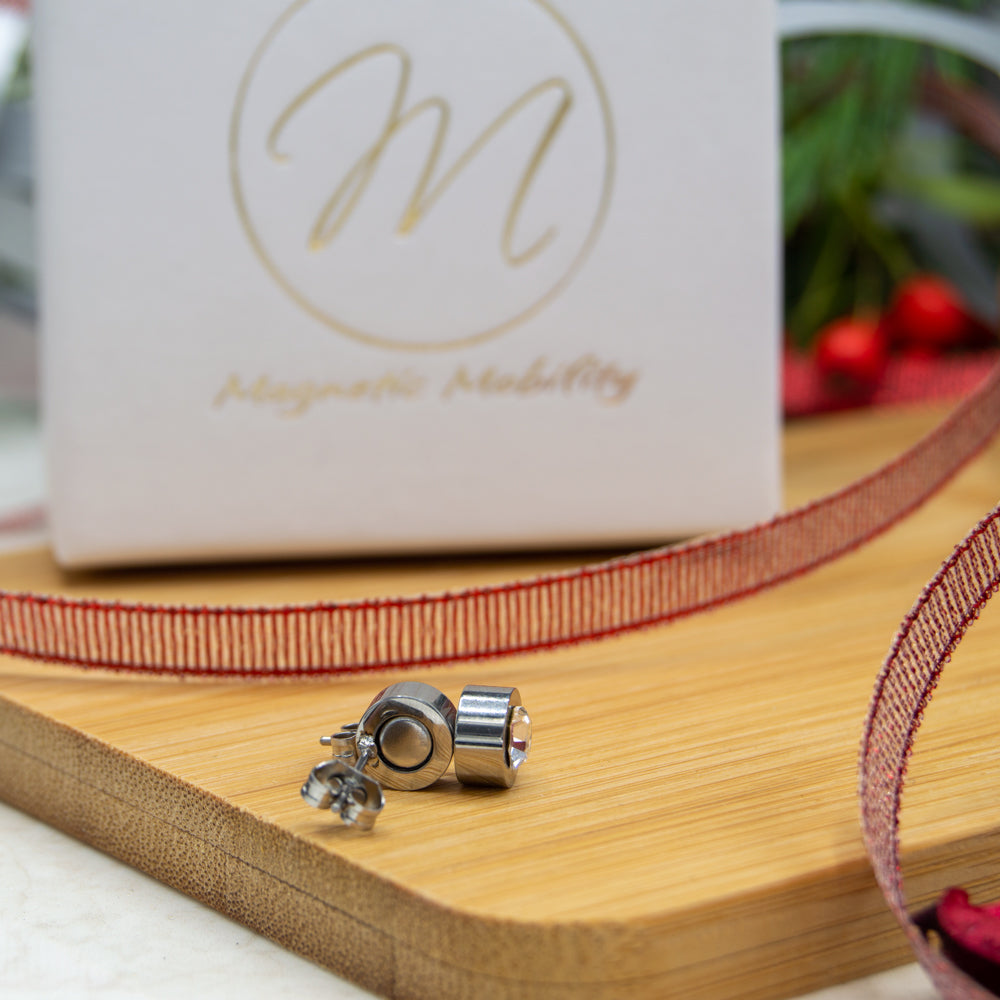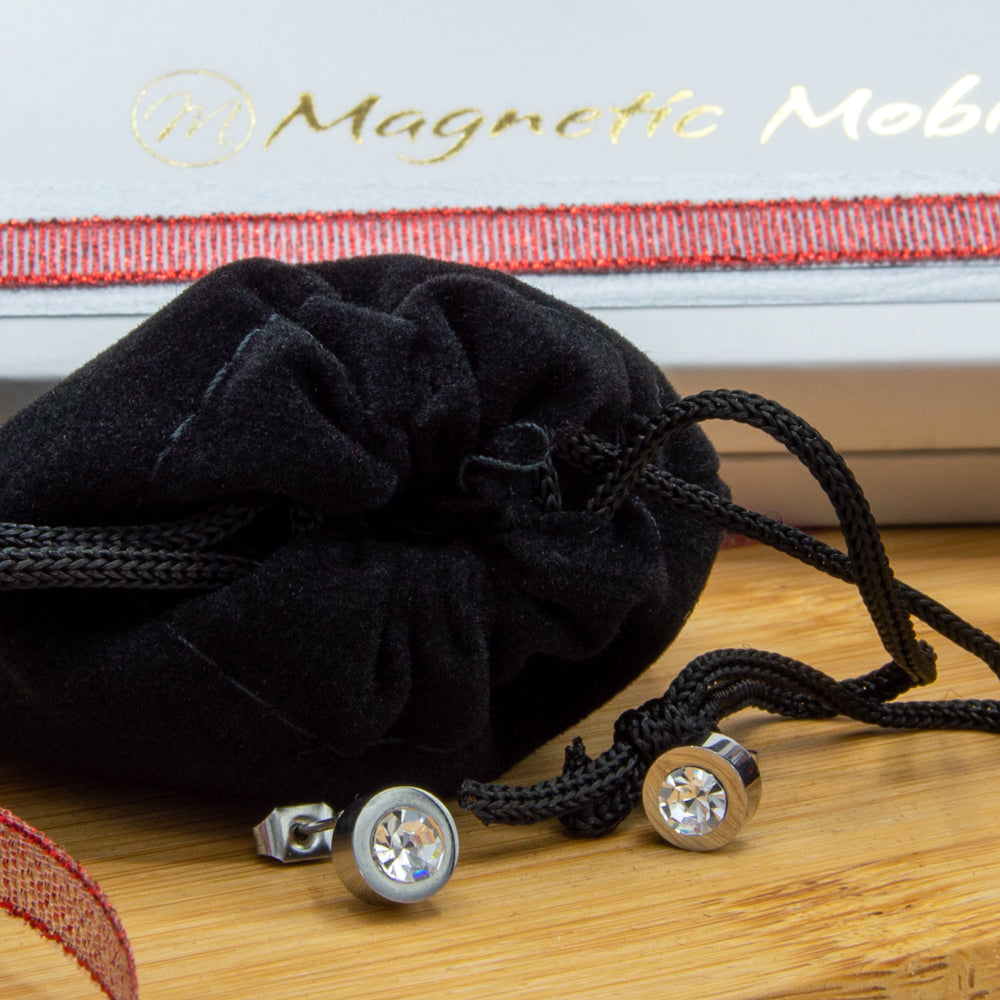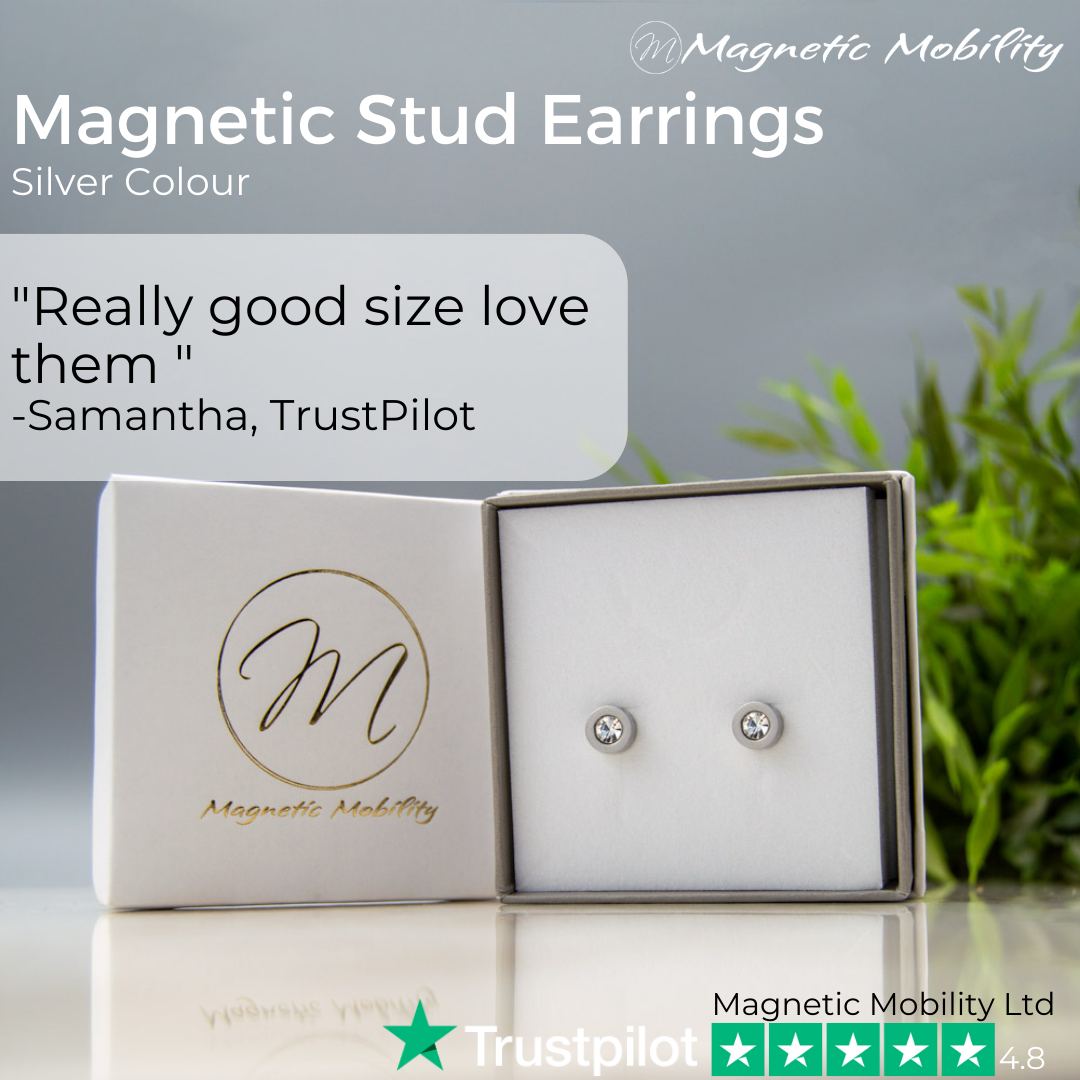 Angelica's Star Magnetic Earrings
Regular price
$33.00
/
Tax included.
---
In stock, ready to ship

Inventory on the way
Introducing Angelica's Star Magnetic Earrings, a radiant blend of elegance and therapeutic benefits. These silver earrings, availble in either drop or stud styles, crafted from durable stainless steel, are adorned with a white Swarovski crystal in each piece, adding a touch of sophistication to any outfit. With a width of 5.7mm, they are designed to make a statement without being overpowering.

What sets these earrings apart is the inclusion of neodymium magnets. These magnets are known for their benefits, including helping people with arthritis, back and neck pain and fibromyalgia.

Pair these earrings with the Angelica Star Magnetic Necklace for a complete look that not only enhances your style but also your wellbeing.
Trustpilot Review:

"I found Magnetic Mobility Ltd very efficient. I ordered online and my item arrived the following day very nicely wrapped and information on my purchase. Also a very nice personalised note from the owners."

(PLEASE NOTE THAT THE TRUSTPILOT REVIEW IS USED TO ILLUSTRATE THE SATISFACTION OF OUR CUSTOMERS AND MAY NOT DIRECTLY RELATE TO THE PRODUCT ABOVE.)
Stainless Steel.
Hypo Allergenic - Stainless steel is certificed nickel free
Will not rust or corrode - can be worn in water
All necklaces contain Neodymium Magnets - see below for further details
Size guide
We want to ensure that you get the perfect fit for your copper bangle or cuff. Here's our step-by-step guide to help you measure your wrist accurately:
Materials Needed
Soft measuring tape (flexible)
A piece of string or thread (if you don't have a soft measuring tape)
Ruler or straight measuring tape
Pen and paper
Instructions
Prepare your Wrist: Your wrist should be in its natural state - don't puff it up or press it down.
Measure your Wrist: Using a soft measuring tape, wrap it around your wrist where you'd wear the bangle. Ensure it's neither too tight nor too loose. If you're without a soft measuring tape, use a piece of string or thread and measure it against a ruler.
Record the Measurement: Note down the point on the tape where it meets the 0, as this is your wrist measurement. If you're using string, mark where the string overlaps, straighten it out, and then measure against a ruler.
Note the Measurement: Record your measurement in both inches and centimeters, for convenience when comparing to the size chart.
Consider the Bracelet Size: As our copper bracelets come with a typical gap of 2cm, it's best to choose a bracelet size that's approximately 1-2cm smaller than your wrist size. This will ensure a snug, comfortable fit.
Comfort is Key: Everyone has a different preference for how they want their bangle to fit, so it's crucial to consider your comfort. If you prefer a looser fit, consider a slightly larger size.
Special Note for Copper Cuff Bracelets:
Our copper cuff bracelets are available in sizes ranging from 14cm to 19cm. Larger sizes are typically suitable for most men, while smaller sizes may be better for those with slender wrists. While these bracelets are moldable, please be cautious when adjusting them to prevent damage. Copper's soft nature means that frequent bending or repeatedly putting on and taking off the bracelet may weaken it over time. Avoid bending the ends where the magnets are housed to prevent damage to the magnet-bonding. For a long-lasting accessory, it's best to set the bracelet to your size and then wear it continuously.
We hope this guide helps you find the perfect fit for your copper bangle or cuff. We aim for your utmost satisfaction and comfort.
Free shipping on all orders in the Republic of Ireland.
Usually dispatched in 1-2 working days. We use An Post for all deliveries. An Post usually deliver in 1-3 working days within Ireland. A tracking number will be sent to you for all orders over €35.
Shipping Options and Last Posting Dates
As the festive season approaches, we at Magnetic Mobility are committed to ensuring your purchases arrive in time for the holidays. We offer two shipping options for our valued customers:
Standard Tracked Shipping with An Post: For all orders.
UPS Courier Service: A

s an alternative option f

or international orders.
Please be aware of the following last posting dates for 2023:
Ireland: December 20th, cutoff at 4 PM.
Northern Ireland: December 19th, cutoff at 2 PM.
UK: December 18th, cutoff at 2 PM.
Rest of Europe: December 14th, cutoff at 2 PM.
USA, Canada, and Rest of World: December 6th, cutoff at 2 PM.
Extended Shipping with UPS: For USA, Canada, and the rest of the world, we will continue to ship with UPS until December 18th, cutoff at Midday.
Important Notes
Additional Transit Time: From November 20, 2023, until January 12, 2024, deliveries sent with UPS Standard may require an extra day in transit than those mentioned at the checkout.
Delivery Assurance: While we strive to ensure your package is delivered on time, once it leaves our premises, the delivery process is out of our control. During the holiday season, postal services experience a high volume of shipments. We appreciate your understanding in this matter.
Shop Early: To avoid disappointment, we strongly encourage our customers to place their orders early.
Shopping with Confidence
We value your trust in choosing Magnetic Mobility for your holiday gifts. Our team is dedicated to providing not only quality products but also reliable and efficient customer service. If you have any questions regarding your order or shipping, please do not hesitate to contact us at customerservice@magneticmobility.ie.
Thank you for choosing Magnetic Mobility, and we wish you a joyous and peaceful holiday season! 🌟🎁
Do NOT use magnetic products if you have a pacemaker, electric implants or insulin pumps.
Pregnant women are advised against wearing magnets.